Nihad Shaker Sakallah was born in Al Quds where he lived approximately 15 years before he migrated to South Florida. He was among the top 5% of the Plantation High School graduates of 1992. After completing his Bachelor degree in Business Administration from Nova Southeastern University (NSU) in 1996, he went on to complete his Master of Business Administration in 1998, Master of International Business Administration in 2004, and Doctor of Education in Organizational Leadership and Human Services Administration in 2012 from NSU. While in South Florida, Nihad attended various Islamic centers as he considered himself part of the Islamic community in the South Florida area and not only a member of one particular center; he also worked in various organizations in the fields of telecommunications, education, and retail. In 2002 Nihad was blessed with marriage, and in 2003 he and his wife relocated to Saudi Arabia where he remained until relocating back to South Florida in 2016 to take on the challenge as the Executive Director of the Islamic Center of South Florida. While in Saudi Arabia Nihad worked as a faculty member in three different universities, and for his last four years in Saudi Arabia he was the Chief Development Officer and Sales & Marketing Manager at a private company in the field of Heat, Ventilation, Air conditioning, and refrigeration. As the Director of the Center, Nihad is in charge of organizing, structuring, and developing the Center to better serve the community. With the blessings of Allah SWT and then the help, assistance, and support of the community, Nihad strongly believes that the Center will be a minaret of guidance to all.
Former Director (1984- 2014) : Hasan Nitham
May Allah Have Mercy on Him.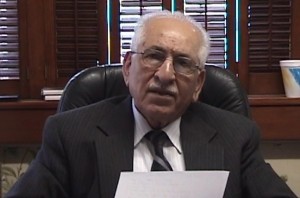 In The Name of Allah The Most Gracious The Most Merciful Sheikh Netham Hasan is in the Caring of Allah in Shaa Allah. "Among the Believers are men who have been true to their covenant with Allah: of them some have completed their vow (to the extreme), and some (still) wait: but they have never changed (their determination) in the least:" Surat Al Ahzab Ch 33 Verse 23. (Translation by Yusuf Ali) I have known Sheikh Netham Hasan (uncle Abu Osama) since the year 1989 as a director of the Islamic Center of South Florida when I had become an Imam of the Center. I knew in him the sweetness of the heart, his love of goodness to people and being at their service, and calling them to Islam with wisdom, compassion and love. I knew in him the love to reconciling between people and the eagerness to solve their problems and to soften their hearts toward each others. I knew in him the hard work with dedication to promote the call to Allah (Suhanah) and and to doing all that has some benefit to Islam and Muslims. I never felt that Uncle Abu Osama (not even once in this lifetime) was looking at his work as a job position but he used to see his work as a call to Allah (Subhanah), thus his patience toward the hurt from people and bearing all the difficulties with one single goal which is to please Allah and get his reward. Besides, he used to do many good deeds outside his work voluntarily and simply with the love to doing the good. Abu Osama lived for the sake of the call to Islam, for his community, and for doing the good. This is not surprising about Uncle Abu Osama, everyone who deled with him, because whenever he happened to be he was keen to gathering people, to bringing their hearts together, and promoting love among them and forgiveness. He was as such again when he was in Palestine when he founded the Arab Cultural Association in the municipality of Al Bira, and as he was a caller to Allah (subhanah) in Palestine he was also in America. He gathered the Muslim community in Cleveland Ohio, then here in Florida since the end of the seventies in this last century and until his passing away may Allah have Mercy on him. Abu Osama was then one of the founders of the Islamic Center of South Florida. Which he Directed and was at it's service since 1984, as was as well one of the founders of the Association for the emigrants of Al Bira in the US and remained its president for decades. In the evening of the Jumua (Friday) January 22nd 2016, our uncle Abu Osama departed from us to Allah (subhanah). He left while he was enjoining on and on about taking care of the Islamic Center, to the call to Allah (Subhanah), and to reconciling between people. He departed after he founded the nucleus for the call to Islam in the South Florida Region, and Ohio before. He departed and left a big responsibility. We pray Allah (Subhanah) that He will help us bearing it, and that He will shower our Sheikh Abu Osama with His Mercy and that He will reward him for the all the good he did to the Muslims here the best of reward and that He will give patience to his family and all his loved ones for their loss. Sheikh Hasan Sabri.